Hot Creek is one of my favorite places to fish. I have fished there for over 15 years and early in my fly fishing pursuit, I must admit that I came away without hooking a fish a majority of the time.  In fact, I don't know if I ever caught a fish there in the first 10 years of fishing at Hot Creek. My only way of remembering the fish that I catch these days is by digital camera. Since  I didn't start carrying a camera until 2005, remembrance of any fish caught prior to that time is almost long gone with the exception of a few memories from my fly fishing birthplace, the Bidwell Ranch in Shasta County.
What makes fly fishing a creek with an estimated 6 to 10 thousand trout per mile so difficult? Perhaps, it is the prolific weeds? Perhaps, it is those evil, tall, yellow flowered bushes that fiercely entangle my bad back casts? Perhaps, it is the great crowds of frustrated fisherman that commonly  hover over the edge of the creek? After you cast into one of those crazy tiny, grey/brown caddis hatches, you will learn quickly about the difficulty of fishing at Hot Creek. I have never seen trout so finicky or elusive in any stream. They will hit your fly over and over again without allowing you to set the hook.
So, why on earth is this place one of my favorite places to fish?  Other than the scenery being stunning at times, I think that it is the challenge that keeps bringing me back.  I know this sounds bad, but recently, I have found a lot of amusement from observing  frustrated temper tantrums by other nearby fishermen.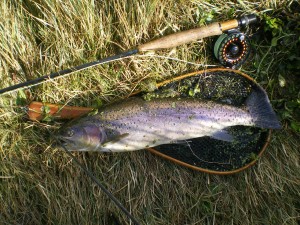 One evening, I spotted a large rainbow at my feet. I very slowly backed away from the bank so I could position myself to float  a fly in front of the nose of the trout.  The big trout launched at my fly and he was on! As I let it run to protect my 7X tippet, it thrashed aggressively. After some time, I was able to net the trout pictured at the left. As I landed this fat trout, I observed another fisherman having his own battle with his temper as he screamed obscenities, threw his rod and stomped off to his truck.   I had to chuckle.
From what have I have learned over time, it is presentation of your fly is more important than the type of fly that you lay on the water, but at Hot Creek it is imperative to have both. The dry fly that I have the most  success with at Hot Creek is a pattern created by Ralph Cutter called the Hot Creek Caddis. I first found this fly at one of the local fly shops in Mammoth but the version that I have had the most success with can be found at The Trout Spot. The flies at this online shop are a priced reasonably and they work!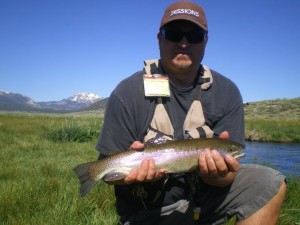 My favorite spot to fish at Hot Creek is called the interpretive site and my favorite day fishing there occurred last year at my opening day for 2010. I arrived at mid day and I could see that it was pretty crowded.  There were two sets of fishermen working the banks beside me. After a little observation, I could see that two of the fishermen were accompanied by guides. After about 20 minutes with a Hot Creek Caddis loaded up on my rod, I received a massive hit. As I fought this bad boy, I wanted to make sure that I had someone to take a picture so I called over to one of the fishermen next to me . One of the guides responded to my plea and rushed to my side. He began dancing around me making exclamations about the size of the trout. After I landed the beautiful trout, the guide promptly snapped the picture at the left. As I released the trout, the guide pulled a video camera out of his pocket and shoved the camera into the water to video the fish under water as it swam away. Wow! I asked the guide about his little video camera and he told me that is is a HD Pro video camera.
What a way to start off my fishing season! I thought to myself, "what am I going to do now?" I felt like I had already reached the pinnacle of my fishing season within the first half hour of the season. I decided that I would try to complete a trout grand slam for the 2010  season which includes a rainbow, brown, cutthroat, brook and a golden trout. Stay tuned to my blog and I will be sure to let you know how it went.